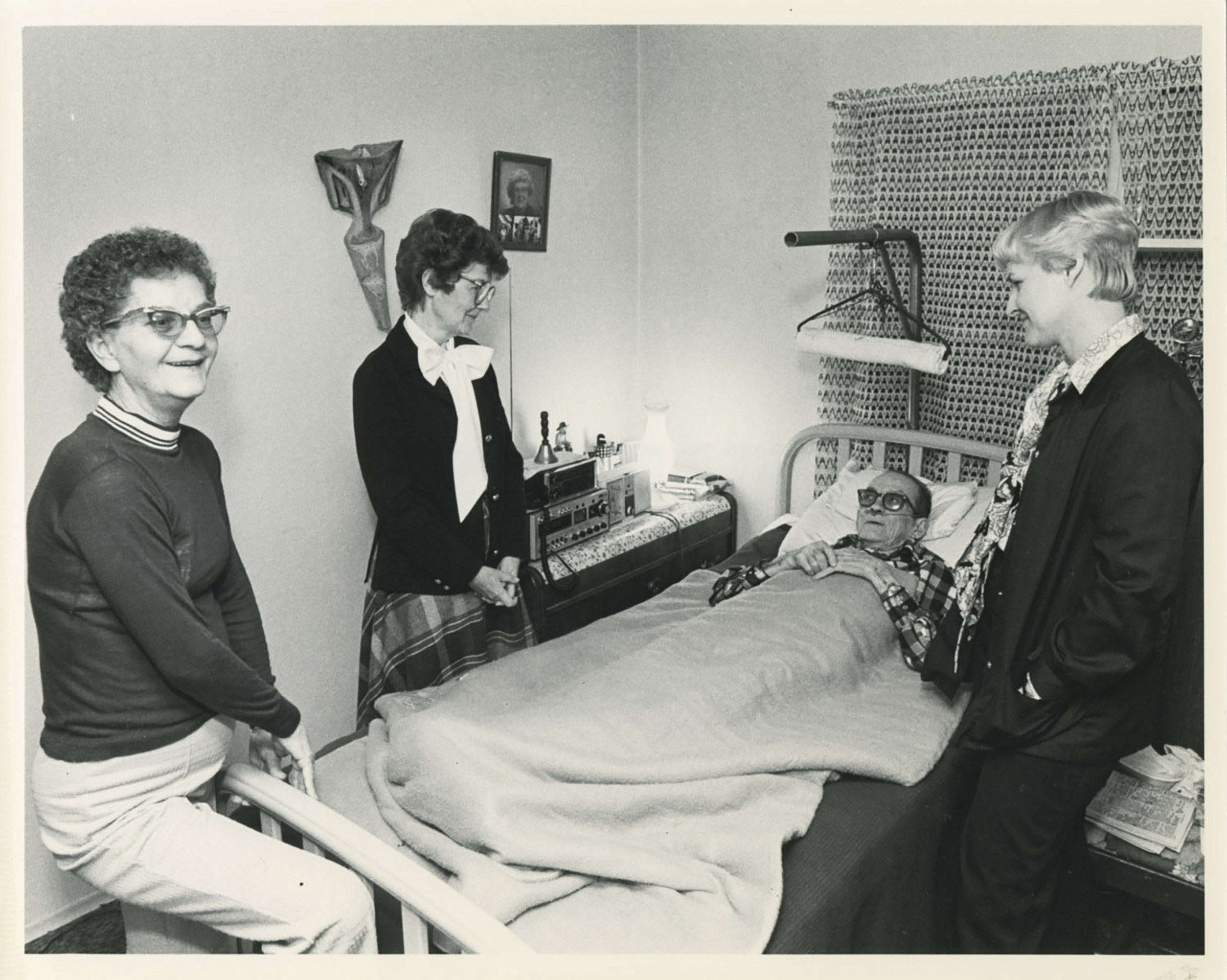 Our History
Serving Our Community Since 1979
Growing Together…Our history in the Central Valley and the journey to becoming Community Hospice & Health Services
1970's
The modern concept of hospice, first established in Great Britain, made use of pain management techniques and ministered compassionate care to the dying. Hospice care is introduced in the United States in 1974.
1979
The hospice concept of compassion and care for the dying is brought to Modesto in 1979 by two student nurses, Mary Jean Couer-Barron Thompson and Kathy Oberg- Erlenbeck.
1980
Community Hospice nurses visit their first patient on January 22, 1980.
1982
The Friends of Hospice, an auxiliary fundraising group of committed volunteers, began planning events to financially support programs. One of the first events organized by the Friends was the Decorators' Showhouse.
1983
Services expanded to include residents of Oakdale, Riverbank, Escalon and Salida. Soon Patterson, Newman, and Wesley followed.
1985
On October 31, 1985, Community Hospice achieved another milestone by becoming the first freestanding hospice in the nation to receive accreditation by the Joint Commission on Accreditation.
1988
In January 1988, Community Hospice merged with Project VIA, an independent nonprofit agency providing bereavement care. It is then that the organization begins to provide services to anyone facing any terminal illness and bereavement services to community members, regardless of the cause of illness.
1993
The first Hope Chest Thrift Store opens its doors on North McHenry Ave. in Modesto, CA.
1999
The second and third Hope Chest Thrift Stores open for business on South McHenry Avenue and on Yosemite Blvd in Modesto, CA.
2000
Community Hospice received the United Way Agency Leadership Award for its outstanding service to the community.
2000
The Community Hospice Auto Division began to accept donations of used cars, motorcycles and other vehicles on Beard Avenue.
2001
In June 2001 the Community Hospice Foundation was established to raise funds and awareness to support patients and their families. A capital campaign for a Hospice House was initiated.
2002
Community Hospice broke ground for the Alexander Cohen Hospice House, after raising $4.1 million for its construction.
2003
The groundbreaking for the Alexander Cohen Hospice House took place in Hughson, CA. The 16-bed inpatient hospice facility is the culmination of a long-held goal on the part of Community Hospice Boards, staff and volunteers, and was made possible through the generosity of community support.
2004
The fourth Hope Chest Thrift Store, located in Ceres, CA.
2005
The Alexander Cohen Hospice House accepted its first patient on March 7, 2005. The 20,000 square foot Hospice House includes 16 private rooms with adjoining patios, a chapel, and activity and music rooms for patients and families.
Shortly after the Alexander Cohen Hospice House opens its doors, another dream was fulfilled: the Community Hospice and the Community Hospice Foundation moved their headquarters to the new Haig and Isabel Berberian Patient Services Center in North Modesto on May 20, 2005. This new building paved the way for Community Hospice to grow with the community.
The Community Hospice Foundation initiated an endowment campaign aimed at ensuring the long-term financial viability of Community Hospice.
2006
Community Hospice cared for up to 180 patients daily for the first time in its history. The Hope Chest Thrift Store on Yosemite Blvd. relocated from Modesto to the town of Oakdale.
2010
After a rigorous review, Community Hospice received accreditation with deemed status from the Community Health Accreditation Program (CHAP). Becoming CHAP accredited was a multi-year process that fulfilled a key strategic aim and further underscored the organization's commitment to quality patient care and excellence in all administrative areas.
2011
In June 2011, Community Hospice opened a 20,000 square-foot Logistic Center in the River Bluff Business Park in Modesto. The Logistic Center houses the Community Hospice Durable Medical Equipment operations and the Hope Chest Thrift Store processing center.
2013
Longstanding President/CEO Harold A. Peterson III retired and was replaced by C. DeSha McLeod.
Developed Camp Erin of the Central Valley a grief camp for children and teens who have experienced the loss of a close loved one.
2014
To meet the growing need of hospice services in San Joaquin County, Community Hospice opened a branch office in 2014 as well as the Hope Chest Thrift Store on Pacific Ave, in Stockton, CA.
2016
In 2016, the Community Hospice San Joaquin Branch was relocated to a larger facility to expand patient services and programs in San Joaquin County.
2019
In 2019, Community Hospice reached a milestone and celebrated its 40 Year Anniversary. From its small, 1979 beginnings in a church attic in Modesto, CA, Community Hospice has grown to meet the needs of our surrounding communities providing support and services in multiple counties, including Stanislaus, San Joaquin, Merced, Calaveras, Mariposa, Tuolumne, and parts of Contra Costa, Sacramento, Alameda and Santa Clara.
Community Hospice was also awarded Community Health Accreditation Partner (CHAP) Continued Hospice Accreditation, as well as the first Palliative Care Certification in the state of California in 2019. CHAP is the leading national accrediting agency nationally for hospice and home health organizations. CHAP Certification/Accreditation demonstrates that Community Hospice meets the industry's highest nationally recognized standards in palliative and hospice care.
2020
In 2020, the Alexander Cohen Hospice House celebrated its 15 Year Anniversary. Although most hospice patients prefer to be at home, the Alexander Cohen Hospice House provides another option for pediatric and adult patients with symptom management issues that require round-the-clock nursing care. The Hospice House also provides respite care for hospice patients whose caregivers require a short-term respite from home care.
Community Hospice received partner level four of the We Honor Veterans Program. This distinguished honor certifies Community Hospice recognizes the unique needs of America's Veterans, their families and community providers.
MOOD, Mourning Opioid Overdose Death was developed through a grant received by the National Hospice and Palliative Care Organization.
2021
After an eight-year tenure C. DeSha McLeod, President/CEO resigned. Mr. John Renner, Director of Operations was named Interim President/CEO.
Community Hospice participated in Nutritional-based Coaching grant funded by Covenant Ministries of Benevolence to improve the Health Outcomes for Elderly Palliative Care Patients.
Community Hospice also welcomed a new full-time Medical Director, Dr. Peter Lai.
As a result of the many requests from bereavement clients to expand our counseling services to assist with other facets of life, Community Hospice developed a new service line, Hope Counseling offering mental and behavioral health outpatient counseling.
2022
Community Hospice welcomed new President/CEO Alisa Bettis.
2023
Rebranded to Community Hospice & Health Services.
Today, Community Hospice & Health Services provided quality and compassionate care in Stanislaus, San Joaquin, Merced, Calaveras, Mariposa, Tuolumne, and parts of Contra Costa, Sacramento, Alameda and Santa Clara counties.
From the beginning, Community Hospice & Health Services has served all people from the Central Valley. This tradition will continue as Community Hospice & Health Services strives to meet the growing needs of our region's diverse population.